Blogging Trends - Is It Right For Your Community?
December 12, 2009 by: Enogg
Internet connectivity has changed how brands interact with the consumer. Associations, non-profits and community-based organizations have leveraged social media tools like Facebook, Twitter and blogs to effectively interact with their members.
Companies from small to large corporations have added blog portals to their websites. Listening to the consumer voice by providing a platform for discussion and interactivity has changed the consumer and business relationship.
However, many companies still feel reticent about having a blog. The technology curve can seem daunting and the costs have to be considered. Hiring writers and webmasters requires resource allocation decisions. These are small speed bumps. Certainly early technology adopters are well along the blog-hog road. Still some companies are reticent because they do not want the blog to become a consumer complaint station.
Blogging is the future. The dusty road is being paved every day. There are myriad adaptations and usages for a blog. First off, you need clear goals to help build the road map. Clear goals help build the blog backbone, but that final blog is still a dusty path. There are unknowns. What will your readership want and need? Certainly their voice will help shape the blogs creation and destination.
Business has to listen to the consumer. Blogs provide a two-way voice. If the business executives do not like the consumer voice because often times it is negative, than perhaps that business is in the wrong space. Business owners that are against a blog may need to reconsider their options. Either business maintains a blog or another blog or competitor dominates the blogosphere voice. It is far more beneficial to keep the consumer voice close and maybe even learn a thing or two.
Flexibility should be the cornerstone of any blog, even if this word is not in your corporate culture. Openness and transparency are subsets of the blog paradigm worthy of adaptation, especially if entering into the blogosphere for the first time.
If the business does not want to jump right into a blog, first develop a message board. Having a message board will help grow awareness and customer participation. It can also foster friendships among the business enthusiasts. It can help build the blog.
As a collective, the blogosphere rivals any mass media formats in terms of reach, time spent and wider cultural, social and political impact.  Blogging today should be embraced as a vital communication vehicle whether a marketer, advertiser, professional, organization, business or content provider.
All companies should develop strategies and road maps that employ blogging that develops open and honest dialogue.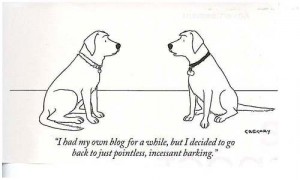 The Trends of Blogging:
Blogs are an essential tool for reputation management and consumers have come to expect them.
Blogs have become the fabric for open honest dialogue with the user community.
The collective strength of the blogosphere points to an untapped advertising platform. If done correctly, advertising can work seamlessly with the blogging posts. Only use advertising where it brings added value to the readership.
Bloggers value advertising, not only for the tangible ROI, but for the credibility advertisements can lend to a site. Good advertising, that matches the needs of the readership, will be more effective. Distracting advertising that does not bring value can only junk-up a blog and lead to unnecessary distractions.
Blogs are incorporating widgets. A branded widget offers a huge revenue opportunity and brand building opportunity. A widget that interfaces with Twitter can also help build readership and functionality.
Uploading blog posts and data via mobile connectivity is beginning to streamline and grow readership.
The blogosphere is now so large it is an accurate barometer of consumer opinion. The weight of the blog voice can help launch new products, new ideas and build a brand reputation.
Building a blog will help build credible business exchange, brand identification, and revenue opportunities while enhancing a user-supported community.
Build a Sticking Power
Blogs have significantly evolved over the years. It is important to build momentum and sticking power. You want to foster a loyal audience.
Open source platforms are leading the way.
A blog should strive to become a destination hotspot for valuable resources, interactions and information.
It is important to incorporate the blog platform as an integral component of your marketing strategy.
For readers to cut-through the ocean of choices, the blog needs to be relevant and ideally work inside your Internet site. Bringing users to branded pages, applications or connecting them to content will grow your user community and create an unparalleled experience.
Branded pages in your blog need purpose to create engagement. A brand sitting on an Internet page serves very little purpose. By creating valuable content, with a rewarding experience, will grow the user-community.
Make widgets happen! A widget should deliver a true benefit to users, avoid overt branding and be relevant to the user. Equally as important is to develop a successful distribution channel that makes brand information, news and content available on other sites as well.
Best of luck to you. Here at EnoggEgbert, we are just having fun. Surely your goals are far more relevant and lofty than the needs of mere Eggs.
From The Desk of EnoggEggbert