Six Building Blocks For A Smart Internet Presence
December 1, 2009 by: Enogg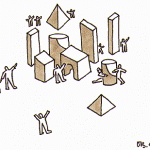 Consumers use the web more and more to purchase goods and services and to find vital information. The Internet is the leading source for shopping, research, purchasing and generally staying informed and connected to the world. The growth is explosive. Technology advancements are happening rapidly.  It's happening so fast that yesterdays website is outdated and inefficient.
Website Management requires more right-brain input. It needs to support the business objectives, yes, but it needs stick-appeal that generates a positive customer experience or it risks being left in the superhighway dust.  Where the accounting department is bound by two plus two equaling four; the Internet department must be adaptive, rule bending and innovative. These are generally foreign words to a left-brain enterprise.
Face it, the company website will always be a moving, changing evolving part of any business. The Internet beast is far from tame. And if you don't  keep up with the Internet, it will leave you behind.
So what to do? Keep these six building blocks in mind when developing your Internet strategy:
1. If you aren't keeping up with the Internet's potential, your competitor is. Typically your competitor has an SEO smart website. This means that the money you could have spent on building a smart SEO website, is lost to your competitor.
2. A smart website is architected with your business goals, drivers and objectives in mind. Your web presence should be well framed to showcase your goods and services. A professional website speaks volumes and will increase visitor stick-appeal.
Most importantly, a website needs to navigate successfully and demonstrate that the business has an expertise, has a reliable product or service, has a competent and respectable delivery methods while devoted to customer care. It is important to build brand-appeal. If you have a professional and easy to navigate website, this will build brand awareness as visitors will stick on the website to learn more.
3. Sales and marketing are key components to the success of an organization. By having a smart website presence you can reach new markets, expand overseas and reach an audience that may not be able to purchase your goods and services through conventional methods. In particular, you may consider providing other languages and reach a greater audience.
It's important to build your site to appeal to the physically or visually challenged consumer. You may be surprised at the markets you reach and uncover by building a smart website.
4. In recent years there has been a significant shift in the consumers' voice. Currently there is an evolving trend where consumers are able to voice their ideas and have a stronger than ever voice on the Internet. In particular, business owners need to have a strong Internet presence that strategically positions the company as a responsible organization or the products and services could end up unfavorably reviewed or rated on blogs and other websites.
As consumers have a stronger voice in the products and services, this requires a well thought out website strategy on behalf of business owners. Business owners will have increasing demands to create a sense of community and build loyal, perhaps even evangelical, Internet users.
5. A website builds your brand. A smart website builds your brand and showcases your goods and services. Brand development is the most integral part of building a marketing strategy that sustains profitability. There are countless ways to leverage social media to drive brand recognition.
Twitter, YouTube and LinkedIn are extraordinary channels to building brand recognition by delivering a message to a vast audience.
6. Your website should be a profit center, not a cost center. Try thinking of your website in terms of generating profits for your business. Most business owners look at the website as an added expense or insignificant part of the business. Some know they need a website but do not have the time or technical expertise. Clearly your business will encounter a cash outlay to develop and maintain the website. If the site is designed correctly and is optimized for search engines with a variety of call-to-action options, then your site will begin to realize an ROI.
If you marry your business objectives with innovative marketing, ensuring a positive experience for your customers on your website, then your organization has taken a gargantuan step for mankind.
From The Desk of EnoggEggbert