How Social Media Can Help Your Business, Just Ask Pepsi
February 12, 2010 by: Enogg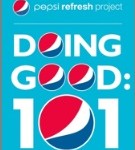 More and more businesses are forced to find methods to reach their audience in new ways.  To some, Twitter, Facebook and social bookmarking characterize a lot of noise and time consuming nonsense. To others, it's the marketing Holy Grail path into the future.
Surprisingly, the social media platforms are free and it's easy to sign up. Surprisingly, if you're not on some type of social media outlet you can bet your competitor is. Not to get you paranoid, but they could even be talking about you. And worse yet, your clients, customers, etc., could be complaining about you.
Goliaths, Dell and Comcast were unaware of the negative social media discussions. They were forced to develop strategic campaigns to enter the social media fray and administer damage control and address a growing online uproar. Both companies developed strategic approaches, using social media outlets like Twitter, to address customer dissatisfaction. The results were considerable.
Entering the social media jumble requires a new type of strategist. Traditional outlets like print, television and radio aren't complete dinosaurs, but the playing field has remarkably shifted, in droves, to the popular social media outlets.
Pepsi Goes Social Media
Pepsi's $20M withdrawal from the coveted spot as a Super Bowl advertiser, paved the way for mainstreaming crowdsourcing philanthropy and riding the wave of viral marketing, all at the same time.
Pepsi decided to withdraw from the ads in favor of their new social media campaign, Pepsi Refresh Project, geared at attracting people, businesses and non-profits. Social media meets crowdsourcing.
Their new website http://www.refresheverything.com encourages you to look around your community and think of ways to change it. Anyone can submit their idea and vote daily for their favorites. Pepsi will distribute funds, from $5,000 and $25,000 all the way up to $50,000 and $250,000 to crowd favorite, worthy causes, on a monthly basis.
Okay. That's brilliant. Not only did Pepsi snag the limelight by withdrawing from the iconic Super Bowl ads, but they also created a buzz about the buzz. In the process, they are also doing some really good things for the world of philanthropy.
Savvy to some, opportunistic to others. You can judge all you like. It sure beats draining millions into Super Bowl ads. Sure we will miss the funny and creative advertisements.  Instead, Pepsi decided to invest in community causes and bring people together to vote on their favorite ideas.
Come on, that's better than Mom's freshly baked, overstuffed chocolate chip cookies, well kinda.
Even if they had to announce their well-televised withdrawal right before the Super Bowl, it sure did get our attention. Pepsi sure knows how to put caffeine bubbles into a buzz.
What's Your Strategy?
Sure, you're not Pepsi. But perhaps Pepsi has a few lessons to teach from their caffeinated buzzing, beverage headquarters.
Here are some of the benefits you can leverage from a social media campaign:
Linking for improved Search Engine Optimization
You have heard SEO over and over again, right?  Having a sound SEO strategy, coupled with your social media campaign is a must have. Each search engine has their own secret sauce and results vary. The algorithms that fuel the spiders (bots) are Fort Knox guarded. You'll need a strategy.
Google tends to send their bots to the popular social media spots like Twitter and Facebook, traveling the links, gathering data, like a spider in her web. Linking your website data to these sites and vice versa will help your SEO. It's not uncommon to see your tweets on Google's pages.
Access to more people
By leveraging social bookmarking sites, blogs, Twitter, Facebook and YouTube, your potential customer reach has grown considerably. There are tools for mass messaging and linking the sites under one content delivery system.
There are new apps that help streamline the social sites and provide analytics for managing and monitoring your messaging. You can even search for a targeted audience in your area.
Develop loyalty and feedback
You like the idea of loyalty but you're not so sure about the "feedback" part. Developing loyalty is a two way street. Don't shy from feedback. Recently Dominoes pizza televised their poor reputation and allowed customer feedback to dominate their advertising.
Using surveys on social media outlets allows customers to give their feedback and helps shape your brand. You may bristle from this idea, but a customer is far more loyal when appreciated. Asking their opinion may open up new profit opportunities, or niche markets.
Share content
Social media outlets are free. What better way to share coupons, store sales, blog posts, new products and upcoming events than through your social media site? Links back to your home website will further develop your brand and offering. Offer freebies.
But don't make it a one-way conversation. Engage with your customers. Join the conversation with a welcoming attitude and customer appreciation.
There's an unspoken rule in social media: It's not wise to bash the competitor. Social media sites have a low tolerance for business slickness and absent-minded spammers. Internet users have a strong BS meter that can easily be tripped by a sense of insincerity or blatant one-sided promotion or degradation of another. Social media is about cooperating, not cut throat competition.
What happens if Coca Cola showed up on Pepsi's blog and complimented their brand? We'll save that answer for another blog post.
From The Desk of EnoggEggbert