Sophia Grace on Ellen Makes the EnoggEggbert's Roar
November 15, 2011 by: Enogg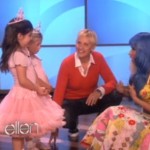 OMG double G! The EnoggEggbert's are roaring over this awesome one and a half pint-size singing team, making a huge debut on the Ellen Show. Sophia Grace Brownlee and her sister-muse sing Nicki Minaj's SuperBass.
And then Ellen arranges to surprise them by having Nicki Minaj on the show, who was greeted with hugs and screams and some more hugs and screams.
In turn, coolio Nicki treated the delightful duo to a trip to Toys"R"Us, where a lot of pink-boxed toys were heaped into shopping carts. Precious.
 Thank you Ellen - you're a scream, Nicki Minaj - awesome gracious, and these super kids!