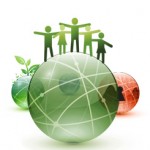 Corporations are finding ways to support society in a positive way while simultaneously being profitable. Corporate Social Responsibility is the role corporations' play in servicing many stakeholders. In particular CSR reflects how corporations support society. The CSR trend isn't new, but there have been significant shifts. In the old days, corporate responsibility was managed more from the perspective
...
December 28th, 2009 by Enogg

Now that you have a website, what do you do? Are you the only person visiting your website? Oh no. Don't be alarmed; you are not all alone - well, maybe. Here are a few ideas to get the most out of your website marketing efforts. A smart website owner has architected a search engine optimized website so visitors are arriving at their site from organic search results. What he heck does that mean you
...
August 12th, 2009 by Enogg